A website featuring historical and educational information concerning
   Judyth Vary Baker and Lee Harvey Oswald


The Coffee Company
Did Judyth really work at the Reily Coffee Company in 1963 with Lee Harvey Oswald? 
In the Spring of 1963, 19 year-old Judyth Vary (shown above) headed to New Orleans for a summer job. 
On May 10th, she began work at the Wm. B. Reily & Co.  Here is the W2 form submitted to the U.S. Internal Revenue Service by Wm. B. Reily. & Co. which proves that Judyth worked for Reily in 1963.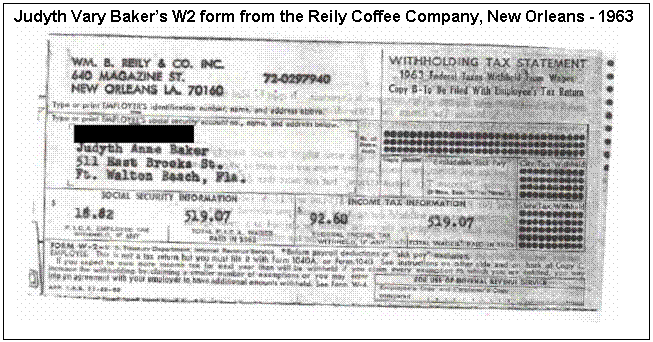 The name on the document is Judyth Anne Baker.  The person we now know as Judyth Vary Baker was known as Judyth Anne Vary until she married Robert Baker in 1963.  Back then it was not common for women to incorporate their maiden names into their married names, so her married name became Judyth Anne Baker.
W2 forms are mailed out in January of the following year - in this case, in January 1964 for the 1963 tax year.  The address on the form shows where the form was mailed, not where the person lived during their employment.  Judyth left New Orleans in September 1963 after her employment with Reily ended and returned to Florida.  The Ft. Walton address on Judyth's W2 form was her husband's family's residence which he used as his official address while attending the University of Florida in Gainesville.
It is well known that Lee Oswald worked for Wm. B. Reily & Co.  This is documented in the Warren Commission Report.  We note that Lee started at Reily on May 10, 1963 - the same day that Judyth started.  Lee was terminated from Reily on July 19, 1963.  Judyth was terminated from Reily on August 9, 1963.  Note the photo of Lee Oswald above.  The date on the plaque hanging around his neck is August 9, 1963 - the same day Judyth was terminated from Reily.  Was there a connection between Lee's arrest and Judyth's termination from the coffee company?

Last updated:12/26/2008 12:47 PM