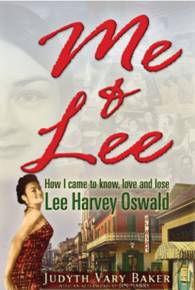 Order Me & Lee today!
$26.00
$21.00 for hard cover book, plus 5.00 Shipping & Handling
Shipping to U.S. destinations only.
U.S. Media Mail.
International orders click here.
with chapters on Judyth Vary Baker,
Dr. Alton Ochsner, Dr. Mary Sherman, Jim Garrison,
David Ferrie, and the cancer treatise found in his apartment.
$19.95 – Soft cover. U.S. destinations only
Same as bookstore price. Free shipping and handling. USPS media mail.

Click here for Canada and all other international destinations.
Order by phone from Trine Day Press 1-800-556-2012
Bookstore contact: Independent Publishers Group at www.IPG.com



January 18, 2011